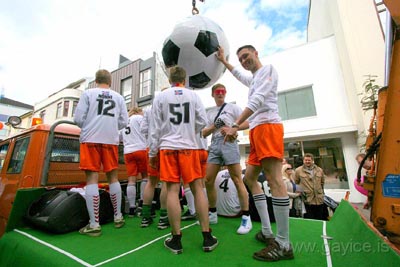 The Justin Fashanu All Star, the Leftfooters, Pan, Radballer, London Titans, a team from Hamburg are among teams playing at the international gay football tournament in Iceland April 9th - 12th.
The tournament is not just about football. Clubs are more and more engaging in campaigns to challenge homophobia in the game, both on and off the field. The Iceland tournament is no exception. Homophobia is a sad reality in football (and in group sports) forcing many talented gay players to quit. In recent years number of campaigns have been launched against homophobia as gay footballers have demanded tougher action against it. The UK Gay Football Supporters Network has said that homophobic taunts and chanting at matches should be treated as such, and not labelled "indecent.
Among teams playing in Iceland is the Justin Fashanu All Star. Team members are involved in the Justin Campaign, a campaign against homophobia in football that focuses on vindicating the memory of Justin Fashanu, world's first openly gay professional footballer. The aim of The Justin Campaign is to get football authorities in UK to observe Saturday 2nd May 2009 as Justin Fashanu Day and eventually make it the annual international day of protest against homophobia in sport. Addressing homohobia as something real is the first step in eliminating it from the game. The Iceland gay football tournament is an important contribution in raising the awareness of homophobia in sports which hopefully creates a fair play for everyone.