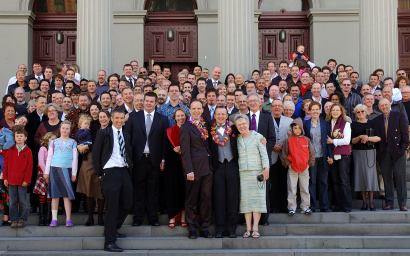 Australian Marriage Equality (AME) national convener, Alex Greenwich, says Australia Prime Minister Julia Gillard has let down the 60% of Australians who support same-sex marriage by opposing the reform. As part of AME´s campaign to change Gillard's mind, the group has written to the Icelandic Prime Minister, Jóhanna Sigurðardóttir, who recently married her same-sex partner, Jonina Leosdottir, asking the Icelandic PM to explain the importance of marriage equality to Ms Gillard. Alex Greenwich says it is "our hope is that this leader-to-leader contact, especially between two ground-breaking, centre-left Prime Ministers, will show Julia Gillard that marriage equality is fundamental to the lives of gay and lesbian people and to a just society."
Last June the Parliament in Iceland voted unanimously to approve same-sex marriage. This means the wording of marriage legislation includes matrimony between "man and man, woman and woman" and upgrades same sex marriage to be fully equal with marriage.
Read the letter sent to Iceland´s Prime Minister, Ms. Johanna Sigurðardottir.