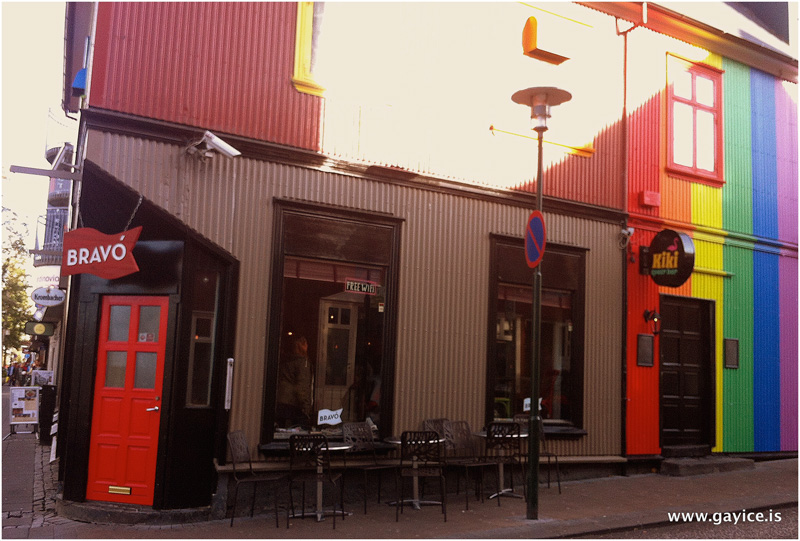 When visiting Reykjavik you´ll soon learn that this is a small city with a tiny gay scene. Population in Reykjavik is just about 120.000 people but just over 200.000 people live in greater Reykjavik area. Once here you´ll notice how small the gay scene really is, there´s no "gay neighborhood" with gay bars, clubs, shops and restaurants where all the gays hang out. There is no Castro, Soho or Village but we still want to believe what we have is fun exploring.
Bars and clubs come and go, some say bars in Reykjavik close before they even open up but thats a different story. Usually you´ll find 1-2 gay venues in operation in the city center. As of this writing Kiki (Laugavegur 22) is currently in full action, very busy on weekends attracting mixed (and young) crowd dancing to the latest Ibiza-kind-of music and old Schlagers.
Bravo which is in the same building as Kiki (Laugavegur 22) can be labeled as Reykjavik´s only "gay" bar attracting queer clientele of all ages. Bravo is a starting point for those who plan a long night out at Kiki and is a home for those seeking more quiet time, want to sit down and socialize over a pint of cold beer (and check their apps). And some nights it event looks like a bear bar.
Reykjavik is also the home of popular gay events such as Rainbow Reykjavik (January/February), Reykjavik Gay Pride (August) and BEARS ON ICE (September) attracting both locals and tourists, all worth checking out if you´re in search of a good reason to come visit.