This Friday The Vintage Box will be hosting a men-only MSC Club Night. The legendary club was the center of the gay scene for years, a nice little bar with a fetish dress code run by volunteers. It was small and intimate and a great place to meet other like-minded guys, network and maybe hook up, but mostly just a place where you could be yourself.
Now the guys at The Vintage Box think it's time to "bring butch back and honor our brothers who miss our Men's Only venue in Reykjavik, the MSC men's club" with a party this Friday and continue with men-only parties every Friday night. Let's hope that the men-only Friday nights at The Vintage Box will prove popular and we can finally have a gay bar in Reykjavík again.
The Vintage Box is at Hafnarstræti 4, side entrance on the left. The event starts at 9:00 pm until 4:30 am.
For the last eight years since The MSC Club closed we at Gayice.is / Bears on Ice have been the only ones organizing regular men-only events until now. We started the Bears on Ice event in 2005 and tickets for the 2019 event will be available soon. Check the website for details: Bears on Ice.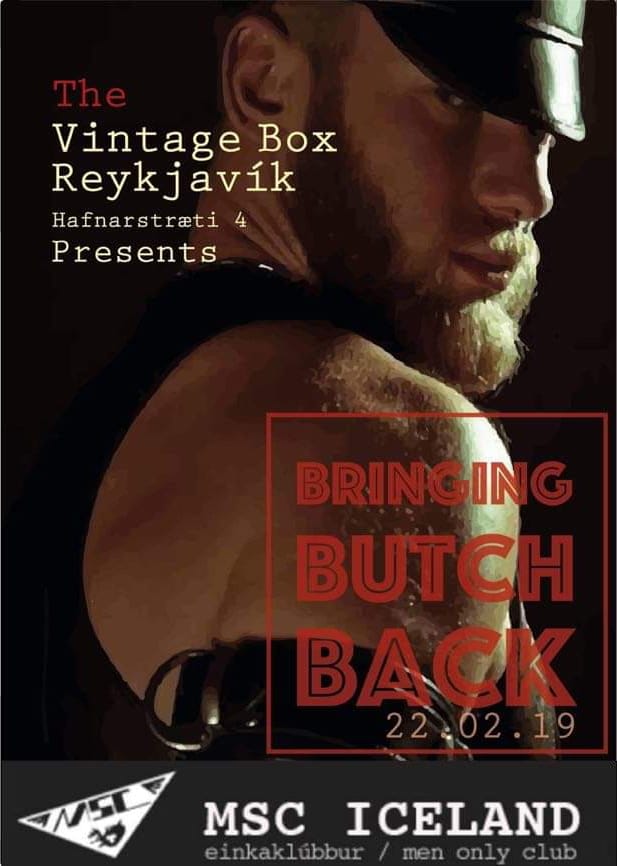 From the organizers at The Vintage Box:
"We will do our best to butch up the VintageBox and gather all leather and bondage props we possibly can .. and please please if you have any leather / bondage gear or decor you would like to contribute to the feeling please let us know, it would help a lot. "
"In honour of the MSC club we would like to ask everyone to make sure to wear leather / uniform / denim fabric ( jeans plus black or white shirt for example). No one has to come in full leather outfit unless they want to .. but to bring butch back we have to stick together .. everyone that shows up in dress code gets one free draft beer."