Last friday night was Drag-Súgur's first event at Gaukurinn with a variety of performances, including live music, stand up, circus, and of course; Drag! The show had a very international flavor with Jonathan Duffy, Australian standup comedian, hosting the evening and performing two songs and Hungarian Pixy Strike performing drag.
There were performances from Icelandic drag royalty from Starina Drag queen of Iceland 2003 to Gogo Starr, the reigning Drag queen of Iceland 2015 who both performed in Icelandic, Aurora Borealis, Mighty Bear, Danny Boy and more.
Gayice.is was there and we put together a gallery of photos from the night and a few clips in a video. We highly recommend this show, its amazing fun as you can see in our video and gallery of photos: Drag-Súgur.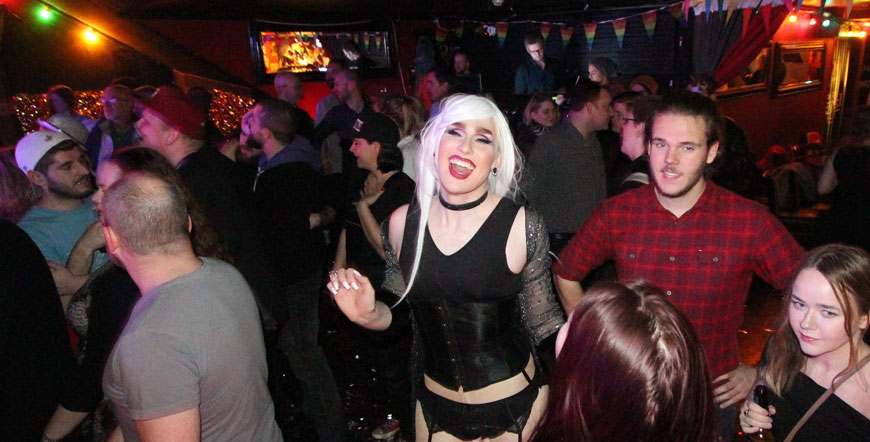 Gogo Starr asked the mirror who was the fairest of them all and of course no one can be as gorgeous as Páll Óskar who finished the show with performing a new song and some of his classics.
Páll Óskar was part of the legendary drag club Moulin Rouge that started the drag scene in Iceland. Later we had another performance group with the catchy name "Hégómi og eftirsókn eftir vindi í segli"doing drag at the gay club Jón Forseti around 2004. For the last years the biggest thing keeping the drag scene alive has been the Draggkepni Íslands that started back in 1997 according to their Facebook page. facebook.com/draggkeppniislands Hopefully Drag-Súgur will become a regular event and a venue for new queer talent to try out new things, be it stand up, circus, standup or drag.
Follow their Facebook page and get info on their next events.
facebook.com/dragsugur